Firmament Coin loan app review : Firmament is Fake Type of loan app because they are giving only 6 day loans which Voilet Google Play Policy So Today I Will Give Complete Review of Firmament instant loan app with Customers Reviews and Data.If You want to take loan from this instant loan app You Should Follow our Review First,This loan app is advertising with Google and Facebook ads So You can fall in trap of loan app
Firmament Coin loan app Genuine or Fraud ?
Is Firmament Coin app NBFC Registered or Not ?
Should I Take loan from Firmament coin loan app ?
Firmament Coin instant loan : Basic Features
Firmament loan app has 100k+ download mostly download comes from advertising
Firmament instant loan app has 4.8 star rating with 2k Review is Which totally paid most of the review given by non user of this loan app
Firmament app loan amount from 750₹ to 50,000 Which Copied from Branch loan app
Interest rates of this loan app 2% to 30% depend upon Customer profile but in reality they charge 40% to 50% APR IN 6 DAYS
Firmament app loan tenure :- minimum tenure 91 days and maximum tenure 120 days which is totally wrong they give on 6 day loan
Firmament loan NBFC anik Financial Services Which Not Verified
Firmament Coin loan app : Customers Reviews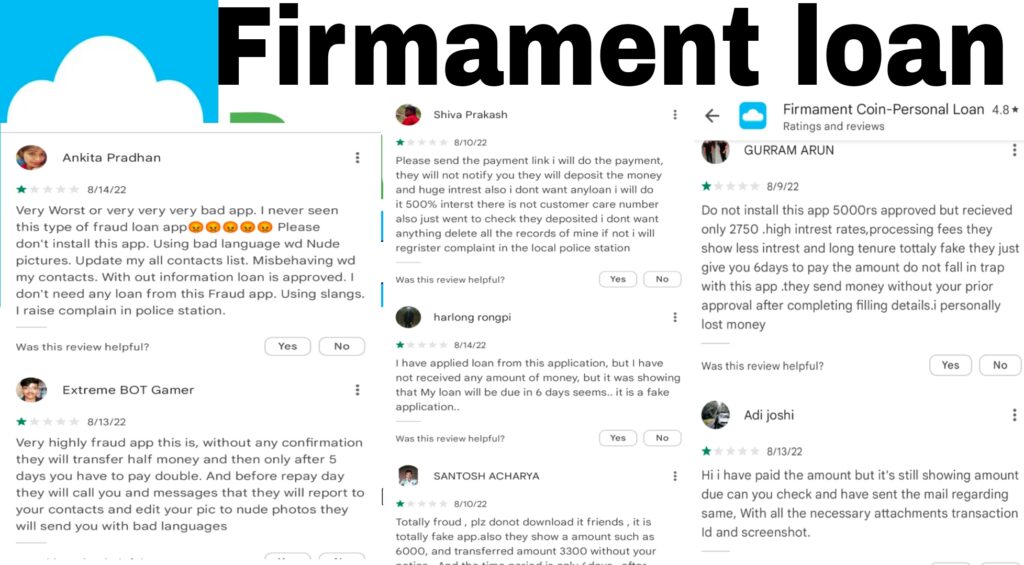 According to customer reviews they 500% interest per months which huge don't take loan from this loan app
They are harassing you by calling in your contact and using edited photos which is a illegal activities
Their description is copied from another loan app like branch
They Hack your data
Firmament Coin loan complaint kaise kare : firmament Coin loan complain
If You want to file a Complaint against this loan app You Should File Complain in Cybercrime Portal online
You can also file Complain in your Nearest Police Station
Don't Pay A single Penny of this Loan app Because They are using black money
Firmament Coin instant loan Eligibility Criteria
Aadhar card for Address Verification
Pan card for identity and credit score
Must have Active bank Account
Age must be 18 to 58 year
indian resident